French toast. French toast is a dish made of sliced bread soaked in beaten eggs and typically milk, then pan fried. Alternative names and variants include "eggy bread", "Bombay toast", "German toast", "gypsy toast". Quality school uniforms and kid's clothes for girls and boys.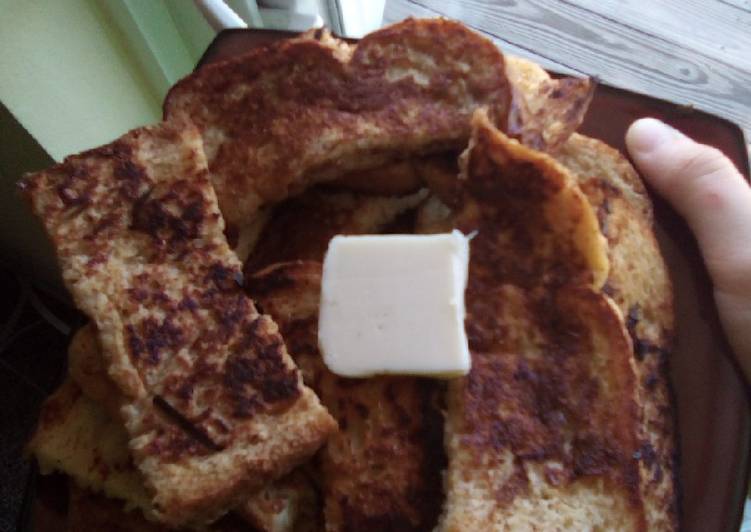 There is nothing fancy here because simple is better with this. French toast is a delicious, classic breakfast dish made with sliced bread, eggs, milk, and a few sweet ingredients. The goal is to make your toast rich and fluffy by making your batter just right. You can cook French toast using 6 ingredients and 6 steps. Here is how you achieve it.
Ingredients of French toast
It's 2 of eggs.
Prepare 1/2 cup of milk.
It's 1 teaspoon of cinnamon.
Prepare 1 teaspoon of vinilla.
It's of Bread.
It's 1/2 of Sugar.
Once you've got the basic technique down, you can branch out into all kinds of variations using different breads, flavorings, cooking methods, and toppings. Fluffy and tender on the inside, gloriously browned on the outside. Start your morning off right with one of these easy, homemade French toast recipes. This French toast recipe is delightfully quick and easy, so Jack and I make it whenever we have day-old bread in the house.
French toast instructions
Mix your eggs and milk into a small bowl till it looks like yellow milk with sugar too.
Take vinilla, cinnamon and mix in to your egg milk mixture.
Now set the liquid aside and cut your bread into whatever shape you want you don't even have to cut it..
Now heat your pan and oil it or butter it your choice 😉.
Dip your bread into the batter and place on pan cook for 1-2 minutes it depends on how high your stove top is.
Now enjoy.
Still, it has the flavor of a special-occasion treat. Wake up for Robert Irvine's classic French Toast recipe from Food Network, a sweet start to the day made extra special with challah and spices. These family-friendly French toast recipes are sure to please. Serve up some scrumptious French toast for breakfast or brunch. Take a look through our best rated recipes for this classic morning treat.