Buffalo Chickpea Lettuce Wraps. Nutritionally speaking, these wraps are superstars. Packed with protein (buffalo chickpeas ♥), healthy fats (the beautiful avocado) and lots of vegetables (cucumbers, tomatoes, um, lettuce). If you're looking for a lighter dinner alternative, this is it.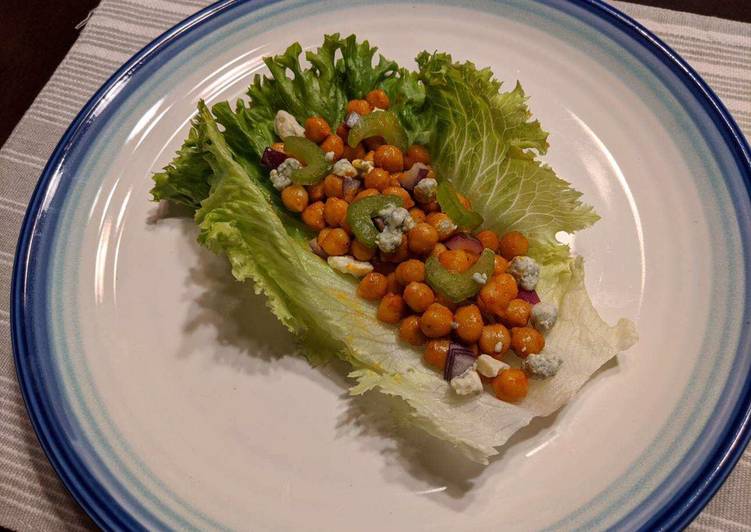 Buffalo chickpea salad doesn't stop with wraps. Have it on a sandwich, with crackers, or on top of a salad. You can even have it in a lettuce wrap for a low-carb and gluten-free option! You can cook Buffalo Chickpea Lettuce Wraps using 17 ingredients and 4 steps. Here is how you achieve it.
Ingredients of Buffalo Chickpea Lettuce Wraps
You need of Chickpea mixture.
It's 3 cans of chickpeas (15.5 oz each).
It's 1/4 cup of hot sauce.
Prepare 2 tbsp of butter.
You need 1/4 cup of buffalo sauce.
It's 1/2 tsp of garlic powder.
You need 1 tsp of paprika.
It's 1/2 tsp of onion powder.
Prepare 1/4 tsp of cayenne.
It's 1/4 tsp of salt.
It's 1/4 tsp of black pepper.
Prepare 1/8 tsp of ground mustard.
You need of Lettuce Wrap Toppings.
Prepare of Blue cheese crumbles.
You need of Shredded cheddar cheese.
It's slices of Celery.
You need slices of Red onion.
This fiber and protein-rich recipe is beyond versatile! Assemble your wraps: lay a tortilla down, place lettuce leaves on top, then the buffalo chickpeas, celery, and finally drizzle with a little vegan ranch. Add some extra buffalo sauce for more kick. Roll up the wraps like a burrito.
Buffalo Chickpea Lettuce Wraps instructions
Drain and rinse the chickpeas..
Melt the butter in a pan and mix in the hot sauce, buffalo sauce, and dry spices..
Stir in the chickpeas and cook on medium-low heat on the stovetop until warm, about 10 minutes..
Serve on green leaf lettuce wrappers topped with cheese, red onions, and celery..
Enjoy right away or store in the fridge for another day! Vegan Lettuce Wraps with Buffalo Chickpeas These vegan lettuce wraps are filled with Buffalo chickpeas and homemade ranch dressing for a light and refreshing gluten-free meal. Table of Contents show You might think that most of the things I make on this blog are sweets because: To serve, first add some lettuce to each flatbread followed by sliced cabbage, cucumber and red onion, and the diced tomatoes. Next add a few spoonfuls of the buffalo chickpea and cauliflower. To finish, combine the mayonnaise and dried dill in a small bowl along with the juice from half the lemon.