Vegan and GF Baked Peanut butter chocolate chip pancakes. These Vegan Peanut Butter Chocolate Chip Pancakes are to die for, like totally legit. The most delicious vegan peanut butter chocolate chip pancakes. Sift the flour into a mixing bowl and add the sugar, baking powder and salt.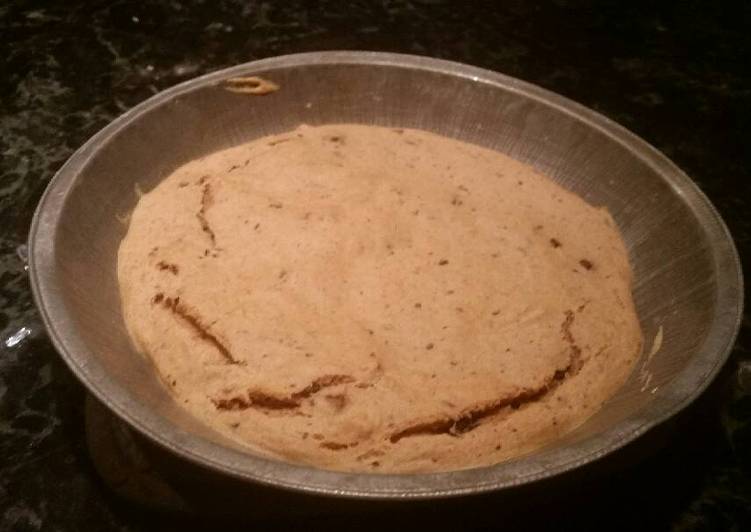 In a medium bowl, whisk together the flour, baking powder, salt, and cane sugar. These Vegan Chocolate Chip Pancakes are light and fluffy and studded with mini chocolate chips. And not just any chocolate chips, Camino's Semi-Sweet Mini Chocolate Chips. You can have Vegan and GF Baked Peanut butter chocolate chip pancakes using 5 ingredients and 6 steps. Here is how you cook that.
Ingredients of Vegan and GF Baked Peanut butter chocolate chip pancakes
You need 1 Scoop of Wholesome Chow's Organic Gluten-Free High-Protein Pancake and Baking Mix.
You need 1 Tsp of Apple Cider Vinegar.
Prepare 1/3 Cup of Chocolate Chips or Chocolate Chunks.
Prepare 1/4 Cup of Peanut Butter.
You need 2/3 Cup of Non-Dairy Milk.
Camino is a Canadian brand specializing in fair trade and organic chocolate and food products. In their delicious lineup you'll find chocolate chips (mini chips! semi-sweet! We topped our pancakes with even more peanut butter, some sliced bananas and a sprinkle of extra chocolate chips. Maple syrup, jam or even vegan nutella – mmm nutella – would all make for awesome toppings too.
Vegan and GF Baked Peanut butter chocolate chip pancakes instructions
Mix pancake mix, milk, and apple cider vinegar in medium size mixing bowl..
Add chocolate chips and mix. If you have a bar of chocolate, chop into small chunks on a cutting board, then mix..
After mixing chocolate, add peanut butter and mix thoroughly..
Pour into a greased pie pan, then put in oven at 400 degrees for 10 minutes..
After you take it out of the oven, put the pancake on a plate. If desired add topings..
Enjoy!.
I hope you love these Peanut Butter Banana Chocolate Chip Oatmeal Pancakes as much as we do. To a large mixing bowl add flaxseed and water and let set for a minute or two. Then add melted coconut oil, agave nectar (or honey/maple syrup), baking soda, baking powder, salt, vanilla extract and whisk to combine. Almost every weekend it's either eggless pancakes/waffles for breakfast at our home. The kids were getting bored with the usual recipes I make and me too.