Oven omelette with potatoes,cheese,ham and salami!. Beat eggs, milk and salt; stir in meat and cheese. Pour egg mixture into the potato crust. Then, add peeled and chopped potatoes and chopped onion into large pieces.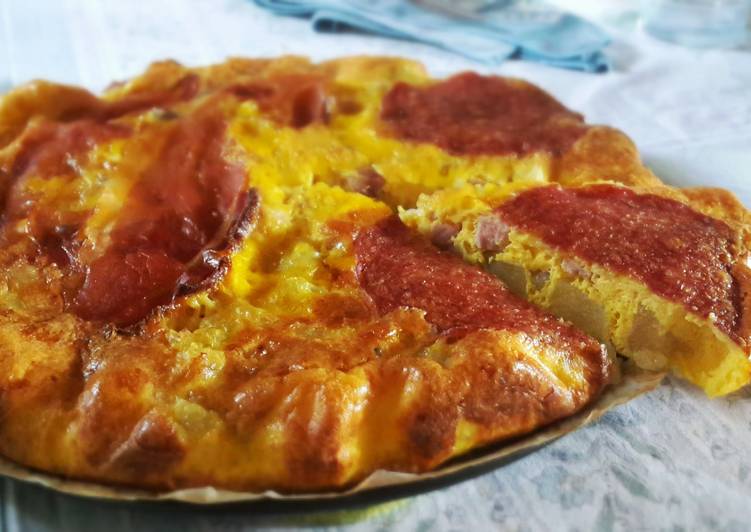 Add the potatoes and sausage and season with salt and pepper. Reduce the heat to medium and cover the frying pan. The potatoes should be cooked through, crisp and lightly browned. You can cook Oven omelette with potatoes,cheese,ham and salami! using 10 ingredients and 7 steps. Here is how you achieve it.
Ingredients of Oven omelette with potatoes,cheese,ham and salami!
You need 2 of big potatoes (diced).
It's 7 of eggs.
You need 100 grams of diced ham.
It's 100 grams of diced cheese.
It's 70 grams of grated parmesan cheese.
It's 500 ml of milk.
It's 1 of olive oil.
You need of salt.
Prepare of ground black pepper.
Prepare of ground nutmeg.
Our fluffy omelette filled with diced green chilis, Monterey Pepper Jack Cheese. Served with a side of homemade pico de gallo. Meat Lover's Omelette Our fluffy omelette filled with "Daily's" bacon, ham, sausage and aged cheddar cheese. Green Chili Omelette Diced green chilies, sausage and Pepper Jack Cheese rolled in an omelette.
Oven omelette with potatoes,cheese,ham and salami! step by step
Peel the potatoes, dice them and put them in a frying pan with some oil. Cook them. (they have to stay tender, add some water if needed.).
In a bowl: mix the eggs with Parmesan and milk.
Adjust with salt, pepper and nutmeg..
Add the diced ham and cheese to thw mix in the bowl, stir.
Put some nonstick paper in a baking pan.(diameter:24-26cm) Pour the potatoes, than the mixture. You can add sliced salami or ham on the top if you like it (i do half an half so me and my sister are both happy).
Cover the pan with an aluminium foil. Put it in the oven (preheated 200°C)..
After 10 minutes take the aluminum foil away and let the omelette in the oven until completely baked. Enjoy!You can also cut it into small cubes and serve as an appetizer ;).
Throw a little cheese over the ham, onion, potato mixture and then pour eggs and milk over all ingredients in skillet. To a large bowl add the eggs, milk, salt, pepper, and whisk to combine. Pour mixture into prepared baking dish. Reassemble slices of bacon on sheet of heavy-duty foil. Wrap and bake with omelet in oven.