Crockpot Pineapple Ham. Crock Pot Brown Sugar Pineapple Ham! Slow Cooker Pineapple Ham is a must-have dish on your holiday table. The crockpot makes the cooking process very easy while producing a super juicy and flavorful ham.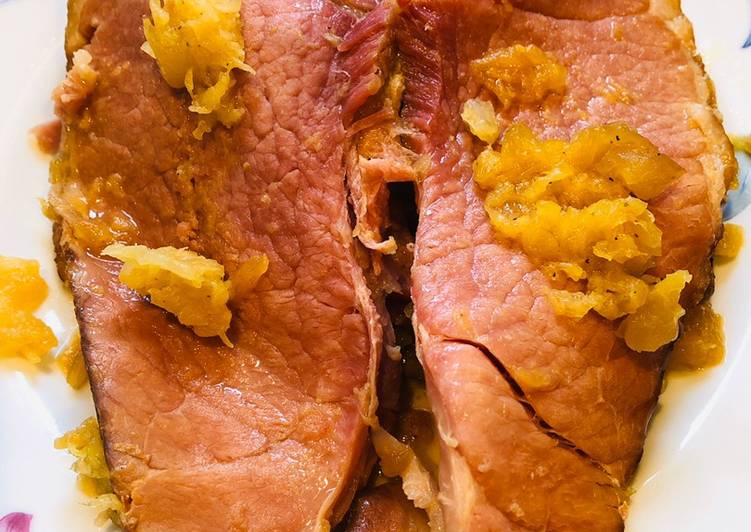 Any ham will work for this recipe, but we like the spiral ham so the juices can get right into the ham to give it so much flavor. If you use a bone-in ham you could score it for the same effect. When you pour the pineapple on top, pull the slices apart so it can get into the ham giving it so much flavor. You can have Crockpot Pineapple Ham using 6 ingredients and 5 steps. Here is how you cook it.
Ingredients of Crockpot Pineapple Ham
It's 1 of spiral sliced ham (10 pounds or under).
You need 1/8 teaspoon of black pepper.
It's 1/8 cup of brown mustard.
Prepare 1/2 cup of light brown sugar.
Prepare 1 (20 ounce) of can crushed pineapple, undrained.
It's of Butter cooking spray.
This Slow Cooker Ham cooks smothered in a tasty and easy to make ham glaze! The Brown Sugar Ham Glaze with pineapples is sweet and tangy and gives this ham delicious flavor and a nice caramelized color and shine. I love the sweet flavor that the brown sugar, pineapple and maple syrup gives the spiral cut ham. This Crock Pot Ham with Pineapple Brown Sugar Glaze is the recipe for you!
Crockpot Pineapple Ham step by step
Remove ham from package and place in a crockpot that has been sprayed with butter cooking spray……..
In a bowl mix together black pepper, brown mustard, light brown sugar and crushed pineapple…….
Pour mixture over ham…….
Cover and cook on Low heat for 6 hours…….
Serve and enjoy !!! Your ham will be incredibly tender and yummy too !!!.
So simple to make, this Slow Cooker Ham recipe can be made with a whole ham or your favorite spiral ham! Holidays just wouldn't be the same without a big bone-in ham as the centerpiece of the buffet table. Slow Cooker Brown Sugar Pineapple Ham is a super last minute addition to our Easter meal around here because we had actually been planning on getting a Honeybaked ham! Growing up the flavor of Easter to me has always been that same familiar flavor. We would get there early to pick up our hams, fighting the crowds the whole way.