Oven Fried Green Tomatoes. Line a large rimmed baking sheet with parchment paper. In a shallow bowl or pie plate, whisk together the buttermilk and egg. Oven-Fried Green Tomatoes Recipe – Enjoy ultra-crispy, tangy fried green tomatoes with less oil and less mess by baking in the oven!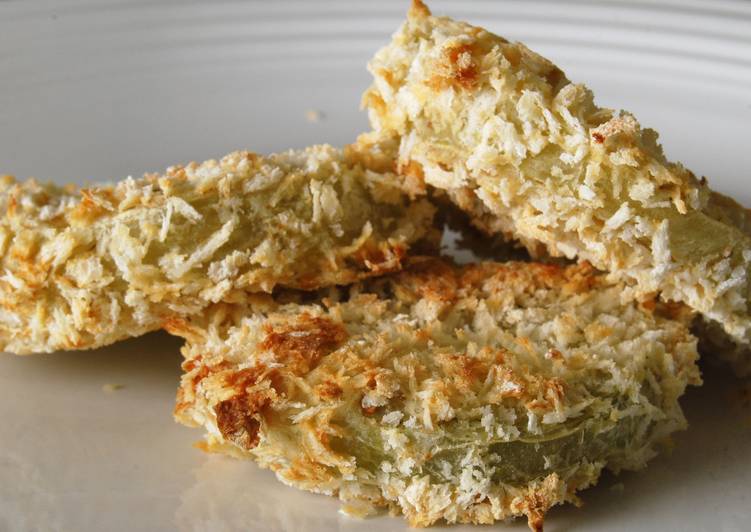 Melt the butter in a baking pan. Stir in the salt and pepper. Coat the sliced tomatoes with flour and place them in the pan. You can cook Oven Fried Green Tomatoes using 8 ingredients and 5 steps. Here is how you achieve that.
Ingredients of Oven Fried Green Tomatoes
You need 4 of Green Tomatoes.
It's 1 cup of All-Purpose Flour.
It's 2 tsp of Cajun Seasoning.
You need 2 tsp of Cornstarch.
It's 1 of Egg.
It's 1 cup of Milk.
Prepare 2 tsp of Salt.
You need 1 cup of Panko Bread Crumbs.
Layer oven-fried green tomatoes with slices of fresh mozzarella and torn basil leaves dressed with balsamic vinegar and olive oil and seasoned with sea salt for a creative take on a Caprese salad. Try them as the T in a BLT, on top of a burger, or sandwiched in a grilled cheese. How To Make Oven-Fried Green Tomatoes. I only used two green tomatoes for this recipes.
Oven Fried Green Tomatoes step by step
Preheat oven to 425°F..
Slice tomatoes into 1/2-inch slices..
Set out three bowls. In the first bowl, mix flour, 1 teaspoon of cornstarch, and cajun seasoning. In the second, mix egg, milk, and 1 teaspoon of salt. In the third, mix the panko, 1 teaspoon of salt, and 1 teaspoon of cornstarch..
Dredge each slice liberally in the flour mixture, then the milk mixture, then the panko mixture..
Place dredged slices on a baking sheet and place in the oven. Bake at 425°F for 12 minutes. Then, flip each slice and bake for an additional 12 minutes..
You will first dredge the tomato slices in flour, then they swim through egg whites and lastly they are covered in a mixture of Panko Japanese bread crumbs and spices. In small bowl combine egg and milk. In another small bowl, combine cornmeal, flour, poppy seeds, salt, and pepper Spray a baking sheet with vegetable oil spray. Dip tomato slices in egg mixture, letting excess drip off. Coat both sides of tomatoes with cornmeal mixture.