Chicken Broth And Oven Bake. Add the whole chicken or chicken breasts to a pot and cover with cold chicken broth or stock. Add vinegar, salt, and pepper and bring to a boil over high heat. Season with salt and pepper or desired seasonings.. just add some chicken broth.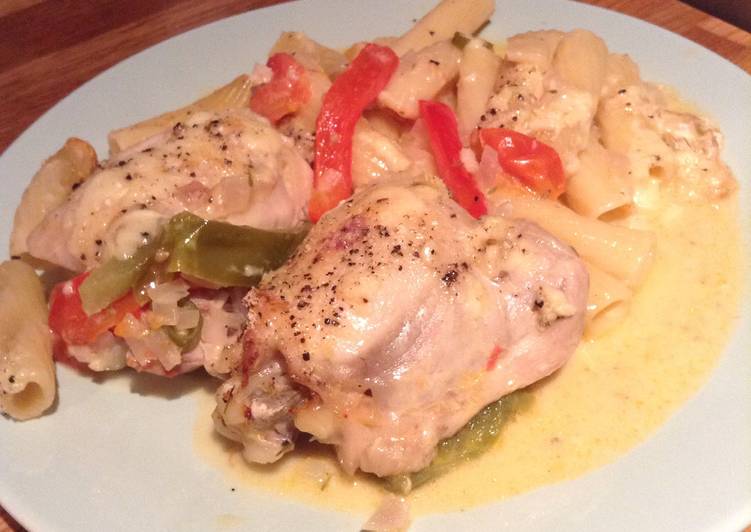 Cover pot with snug fitting oven safe lid. Please use boiling hot chicken broth (or boiling hot water). How to Make Oven Baked Chicken and Rice: Boil your chicken broth (Chicken Stock or Water is fine). You can have Chicken Broth And Oven Bake using 16 ingredients and 17 steps. Here is how you achieve it.
Ingredients of Chicken Broth And Oven Bake
You need 4 of Chicken thighs.
Prepare 3 clove of Garlic.
Prepare 1 of Red Onion.
Prepare 500 ml of Chicken Stock.
Prepare 10 of Cherry tomatoes.
It's 3 of Peppers Mixed.
It's 1 pinch of Rosemary or Thyme.
It's 1/4 cup of White Wine.
You need 1 pinch of Salt.
Prepare 1 pinch of Pepper.
It's 2 of Bay Leaves.
Prepare 2 slice of Lemon.
It's 1 1/4 of Pasta.
You need 250 grams of Mature Cheese grated and slice Camembert.
It's 100 ml of Cream.
Prepare 1 of Green Chilli.
Add your chicken thighs skin side up. Season with salt, pepper, oregano and basil. How Long to Bake Chicken Breasts? This oven baked Chicken and Rice recipe has captured the hearts of people all around the world!
Chicken Broth And Oven Bake instructions
Finely Chop Onion, chilli and Garlic.
Add chicken stock to large pot and start to bring to boil.
Add Red Onions and Garlic.
Add chicken thighs whole.
Add cherry tomatoes whole.
Slice peppers into big strips and add to pot.
Add white wine.
Add bay leaves.
Add thyme.
Add salt and pepper.
Cover and boil for 20mins then remove lid and reduce for another 10mins.
While reducing sauce cook pasta.
Turn oven on to 200°F.
Depending on tastes either serve broth and pasta or…..
Add cream to broth and trasnfer to big tray for the oven.
Add pasta and top off with cheese.
Cook for further 20mins in oven.
The rice absorbs the chicken juices as it cooks, adding loads of flavour. Besides the chicken broth and chicken, you can feel free to play around with the other ingredients in this dish. All you need is some sort of aromatic (we use onions, celery, and carrots), frozen veggie (such as green beans and peas), and herbs and spices (like bay leaf, marjoram, and thyme). Add the chicken broth, cream, and rice and stir. Bring the liquid to a simmer (steaming with small bubbles forming along the edges of the pot, but not quite boiling).