Creamy Chicken and Vegetable Casserole. Use Our Step-By-Step Guide To Cook Simple and Delectable Meal Plans. In an extra-large skillet cook and stir mushrooms, sweet pepper, onion, and garlic in hot butter over medium heat until tender. In a small bowl, cream butter and sour cream until smooth.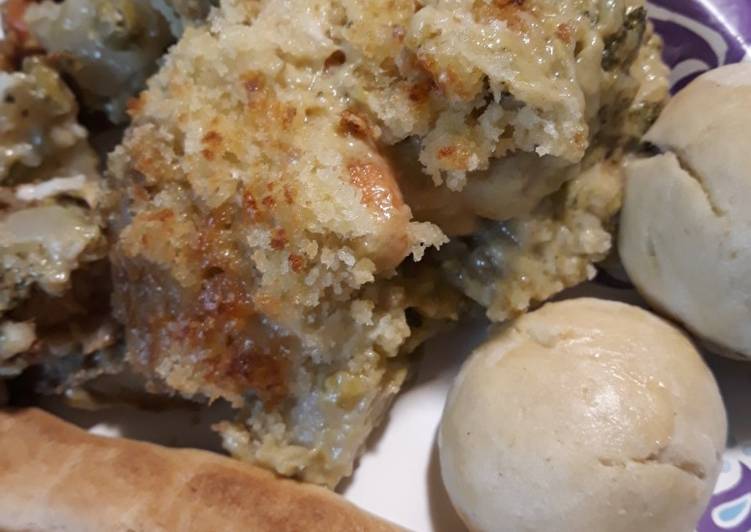 Pour over crust; sprinkle with cheese. Place chicken in the skillet, and season with minced onion, salt and pepper, garlic powder, basil, and parsley. Cook until chicken juices run clear. You can cook Creamy Chicken and Vegetable Casserole using 23 ingredients and 8 steps. Here is how you achieve that.
Ingredients of Creamy Chicken and Vegetable Casserole
Prepare of Chicken and sear.
It's 2 pounds of chicken breast boneless and skinless.
You need 1 teaspoon of salt divided.
You need 1 teaspoon of ground white pepper divided.
It's 1-1/2 cups of all purpose flour.
You need 1/4 cup of peanut oil.
Prepare of Vegetables.
You need 1 pound of broccoli florets.
You need 1 pound of potatoes russet.
Prepare 1 pound of baby carrots.
Prepare 15 ounces of sweet English peas.
It's 1 tablespoon of butter.
You need 1 teaspoon of salt.
Prepare of Liquids and gravy.
You need 15 ounces of canned evaporated milk.
You need 28 ounces of chicken broth.
You need 1/2 cup of all purpose flour.
Prepare To taste of salt.
Prepare To taste of ground white pepper powder.
Prepare of Topping.
You need 3 ounces of finely shredded alpine cheddar cheese.
Prepare 2 tablespoons of butter.
You need 2/3 cup of panko breadcrumbs.
Mix in the cooked pasta, cream of chicken soup, cream of mushroom soup, and mixed vegetables. Transfer to the prepared baking dish. Cream of chicken soup: I prefer Cream of Chicken Soup with Herbs as it gives the dish some extra flavor but regular cream of chicken soup or cream of mushroom soup can be used instead. A make ahead casserole consisting of vegetables and a creamy sauce – served as a side or a main, this casserole will most certainly get vegetables onto your table and into the bellies of your loved ones. #casserole #vegetarian #makeahead #thanksgiving Directions.
Creamy Chicken and Vegetable Casserole step by step
Cube the chicken, season with salt and white pepper. Add the flour to a ziploc bag and then add the chicken. Seal the bag and shake it up till all the chicken is coated..
Heat the oil in an oven safe dish. I used a Dutch oven. Sear the chicken and set the chicken aside when seared..
When all the chicken is seared, add the vegetables except for the peas. Sear the vegetables stirring often. After 12-15 minutes add the flour..
Stir it in cooking for 10 minutes. Add the milk and broth. Stirring constantly. Add the chicken and peas, then turn down low heat, for 15 minutes. Preheat oven 375°Fahrenheit..
Cover and put into the oven for an hour. It may have oils on top, if so skim off the top. Add the softened butter and mix the breadcrumbs, set aside. Add 1/2 cup plain breadcrumbs to top..
Take the cheese and grate it..
Add the cheese on top then the buttered breadcrumbs on top..
Put into the oven, uncovered, or under the broiler. Serve I hope you enjoy!!!!!.
Prepare vegetables according to package directions; drain and place in a large bowl. Stir in soup and cream cheese. Mix soup and sour cream, pour over chicken. Make-Ahead: Assemble recipe as directed: cover. Chicken and Vegetable Casserole is a tried and true dish to warm one's belly during the colder months.