Oven Roasted Potatoes. Good basic and functional recipe for oven-roasted potatoes that lends itself well to personal interpretation. Cut the potatoes in half or quarters and place in a bowl with the olive oil, salt, pepper, and garlic; toss until the potatoes are well coated. Drizzle with butter; toss to coat.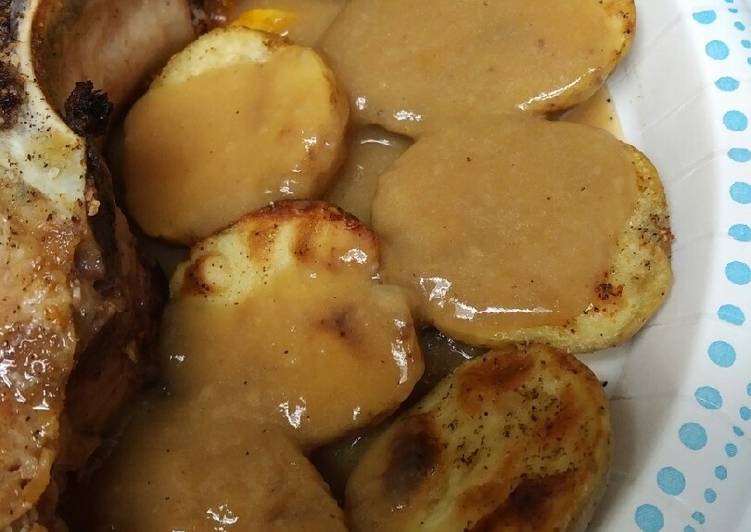 Or look for bite-size potatoes that can be roasted whole. Line the pan with foil, which helps crisp up the potatoes and makes for easy clean up. While the oven is still hot, try roasting your favorite vegetable to help round out your dinner. You can cook Oven Roasted Potatoes using 5 ingredients and 10 steps. Here is how you achieve it.
Ingredients of Oven Roasted Potatoes
It's 1 pound of new white potatoes.
It's As needed of kosher salt.
It's As needed of ground black pepper.
It's As needed of granulated garlic powder.
It's 1 tablespoon of extra Virgin olive oil.
Many older recipes pretend that all you need to do is throw them in a pan with a large piece of meat and, hours later, perfection. If you follow a few simple steps, your oven roasted potatoes can go from an often unsuccessful let-down to an easy, simple, perfectly crispy treat—every time. In small bowl, combine remaining ingredients. Pour mixture over potatoes and toss well.
Oven Roasted Potatoes instructions
Preheat the oven 400 degrees Fahrenheit. Heat an oven safe skillet with nonstick spray in it..
Wash and dry the potatoes. Cut them in half..
Don't let them sit long in the air..
Coat each piece well with olive oil..
Gently sprinkle the seasonings over the top..
Sear the potatoes in the skillet on the cut side down for 2 minutes..
Turn them cut side up..
Put them in the oven for 10 minutes or till fork tender..
Serve with the pork cop sauce from my recipe Salt and Pepper Porkchops..
I hope you enjoy!!.
Simply seasoned, easy oven roasted potatoes make the ideal side dish for a meat and potatoes dinner. A high baking temperature makes the potatoes sizzle and brown nicely. You may also like our oven baked cheesy potatoes ! In a large bowl, toss potatoes, oil, garlic, and herbs. Season with salt, pepper, and a pinch of red pepper flakes.